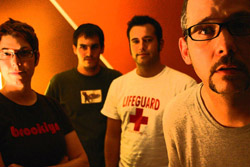 The Nuevos are the brainchild of Kreg Sterns and Kim Collister of the 90's indie bands Aenone, Nyack and Fork. Melding a classic indie rock sound with an Anglophile's ear, On The Brink of Overnight Obscurity, the band's debut album, was a few years in the making. Always, a perfectionist, Kreg didn't trust engineers in studios to understand his vision so they recorded most of the album at home in a space they dubbed Joseph's Room Studios named for the ghost that haunts their Sarasota, Fl home and that room in particular. Sonically it stings like Bee Thousand era Guided by Voices filtered through a half filled glass of lager at a Shins gig.
Kim and Kreg have a rich history that goes back to their junior high school roots and love of indie rock. Having reached a certain level of success with their former bands, they wanted to keep The Nuevos low key and to only play locally in their sunny new locale - Florida's suncoast. Joining them are Matt Osterhoudt (Pilot the Son) on guitar and a succession of drummers that made spinal tap look amateurish. They finally meet a soul mate in Tampa drummer Vinnie Cosentino of the bands Lukali and Palentine and played a handful of local shows . Kreg isn't the biggest fan of live performing and likes to do it as little as possible. Never quite satisfied with the sound and atmosphere of local venues, he often declines their many invitations to play out locally. To see The Nuevos live is quite a rare occurrence these days, but they hope to play some shows in support of the album this late winter/spring.
Having formerly worked with industry heavyweight Alan Moulder (The Killers, My Bloody Valentine, Smashing Pumpkins) Kreg appreciates the freedom a well equipped studio can bring in being able to create any aural landscape you wish. He feels, however, that the process of home recording this album has taught him a lot and as he focuses his attention to recording the new Aenone album he hopes others will appreciate the work involved in making On the Brink of Overnight Obscurity (the title comes from the song Carsick on the album). It will be free to download from the band's website and there will be a special deluxe boxed edition available by mail only on thenuevos.com.